Search Warrant leads to Drug Arrest
04/09/2015
After receiving information about drug activity, the Franklin County Drug Task Force, assisted by investigators and deputies from the Franklin County Sheriff's Office and Russellville Police Department, served a search warrant at 70 Church Street, Hodges, Alabama on April 8, 2015.

The rent house on the property was occupied by James Lee Patterson and officers talked to him about his numerous pseudoephedrine purchases that coincided with information about him being involved in the manufacture of methamphetamine at the property.

Patterson was asked if Investigators could search the residence he occupies to which he consented.

The search led to a five gallon bucket in the crawlspace of the house. The bucket contained equipment, precursors for manufacturing methamphetamine and 3 one pot meth labs. There was also a drink bottle containing approximately 4 ounces of liquid methamphetamine. Also located were another 5 gallon bucket full of ammonia nitrate and a partial 50lb bag of ammonia nitrate which is an ingredient in the manufacture of methamphetamine.

Officers searching the residence found a shotgun having the serial number filed off and various paraphernalia items.

James Lee Patterson was arrested and charged with Manufacturing a Controlled Substance 1st, Trafficking Methamphetamine, and Possession of Drug Paraphernalia.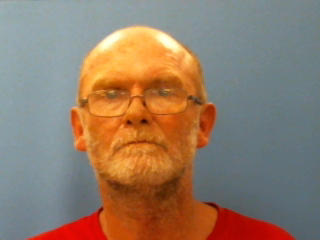 James Patterson