May 2015 Newsletter
---
1ST ANNUAL FRANKLIN COUNTY SHERIFF'S RODEO
We are proud to announce our upcoming 1st Annual Franklin County Sheriff's Rodeo. All tickets are $10.00. Please click on the flyer below for larger image. Hope to see you there!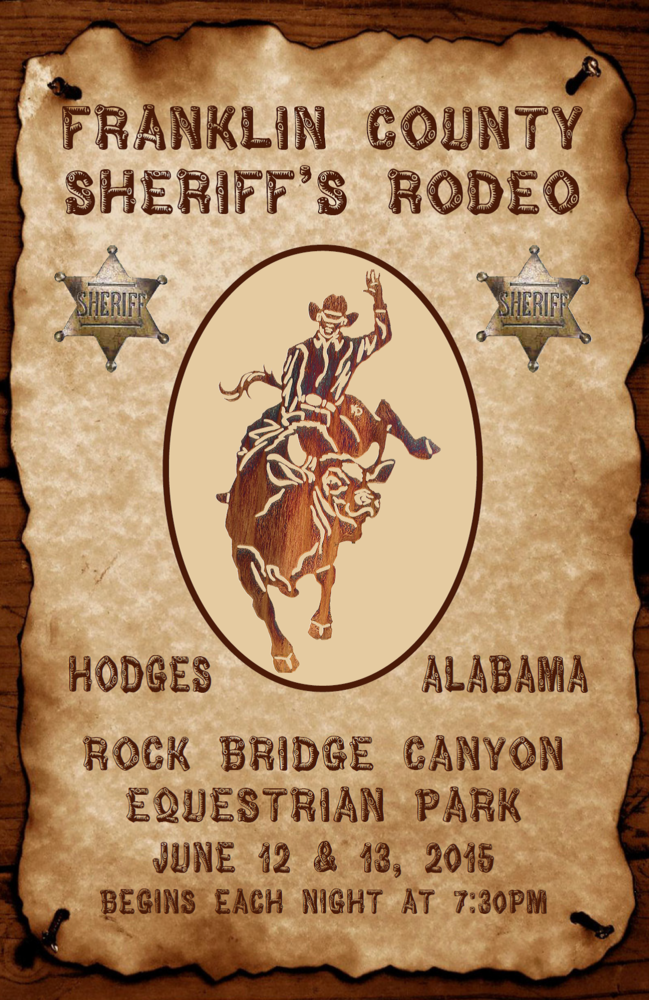 ---
COLLECTION UNIT FOR DISPOSAL OF OUTDATED OR UNUSED MEDICATIONS
The Franklin County Sheriff's Office received a drug collection unit as part of the Medications Disposal for Safer Communities Program in the fall of 2014 due to a grant from CVS pharmacy in conjunction with The Medicine Abuse Project and The Partnership for Drug-Free Kids.
This unit is located in the administration lobby of the Sheriff's Office and is available for safe disposal of outdated or unused prescription medications during regular office hours of Monday-Friday, 8a.m.-5p.m.
Accepted items include: prescriptions, prescription patches, prescription medications, prescription ointments, over-the-counter medications, vitamins, samples, and medications for pets. The following items also appear in the photo below and are not accepted in the unit: hydrogen peroxide, inhalers, thermometers, needles/sharps, ointments, liquids, lotions and items from businesses or clinics. Even though they are considered a needle/sharp, auto-injection devices such as Epi-Pen and insulin auto-injection pens that have not been used and are outdated may be disposed of in the unit.
| | | |
| --- | --- | --- |
| | | |
---
PISTOL PERMITS
Pistol permits can now be purchased for one to five years at $12.50 per year. You must come in to our office to apply for or renew your permit. Please bring your Driver's License with you as well as your old permit for renewal. If you have never had a permit you may click here for a printable application that you may print, fill out, and bring with you along with your Driver's License to apply. For more information concerning pistol permits, check out our FAQ's (frequently asked questions) TAB from our home page.

Act 2013-283 was signed by the Governor, and the changes become effective August 1, 2013.

CLICK HERE TO SEE THE NEW ALABAMA GUN LAW
---
WEATHER PREPAREDNESS FOR THE SUMMER
WEATHER PREPAREDNESS FOR THE SUMMER
While most of us in our area are aware of the increased severe weather threat during the summer months, we may overlook one dangerous situation-a flash flood. Recently, our county received some very heavy rainfall in a short time-frame resulting in flash flooding. Some citizens even found themselves trapped in or on top of vehicles and in need of rescue from the flood waters.
It is important to remember that non-severe storms or rapidly rising streams may result in sudden flooding in low areas, without any warning. Do not walk through moving water. Six inches of moving water can make an adult fall. Do not drive into flooded areas. You and your vehicle can be swept away quickly. It takes just 12 inches of rushing water to carry away a small car, while 2 feet of rushing water can carry away most vehicles including SUV's and trucks.
If you are unsure about a flooded area, do not try to cross. Find another route; it's not worth the risk of drowning. Each year, more deaths occur due to flooding than from any other thunderstorm related hazard. The CDC reports that over half of these flood-related drownings occur when a vehicle is driven into hazardous flood water. Please consider all of this information and tips to keep you and your family safe.
---
KIDS AND SUMMER SAFETY
With summer weather and the end of the school year comes the issues of summer safety for our children. To help keep kids safe this summer please check out the links below for information and tips on water safety, playground safety and home safety. Many kids stay home alone for at least part of the day during the summer vacation. We have included a link for a parent's guide from the Alabama Cooperative Extension System for children who must be home alone. Use these guides to help protect your children and teach them safety skills that will benefit them for years to come.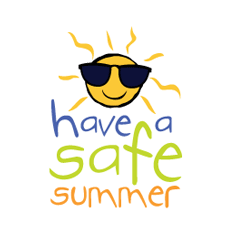 KEEP KIDS SAFE THIS SUMMER (cdc.gov)
This site includes tips on summer safety including Master Water Safety to prevent drowning and recreational water illnesses as well as many others.
CHILDREN AT HOPE ALONE (aces.edu/pubs)
Alabama Cooperative Extension System site. Great information for anyone with children who will be home alone during the summer vacation.
---